Yes, Gold is jumping, but we've seen that before, right?   The question is , " Will it make it to it's intended target, or land flat and flounder around like a (gold) Fish out of water?"   Here at Chartfreak, we have been waiting for this next leg higher. Lets review some of the charts from recent premium reports…

GOLD,SILVER,& MINERS
GOLD SEPT 22

– Looks great on day 7. The first run up went from $1072 to $1169.  It could pull back even further and still look very Bullish, but it doesn't have to. We are in our second daily cycle and I expect that Gold could run to at least $1200. We will monitor it along the way.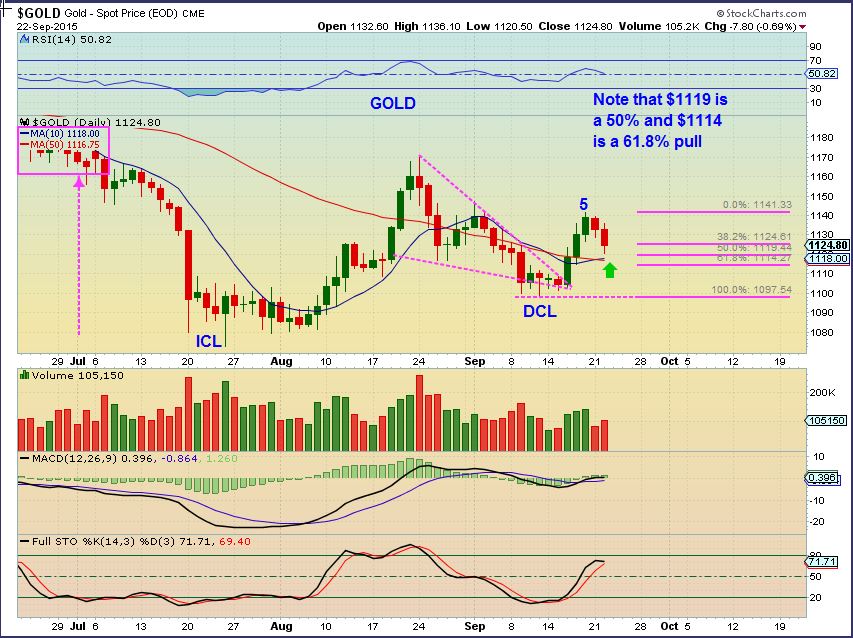 Silver

– pretty big 1 day drop, but it has not moved down with Gold on the last 2 days, so it is not a broken chart by any means.  Notice similar 1 day drops in July and August that had no follow through. I wanted to see those moving averages  hold, and I am also watching the trend lines drawn.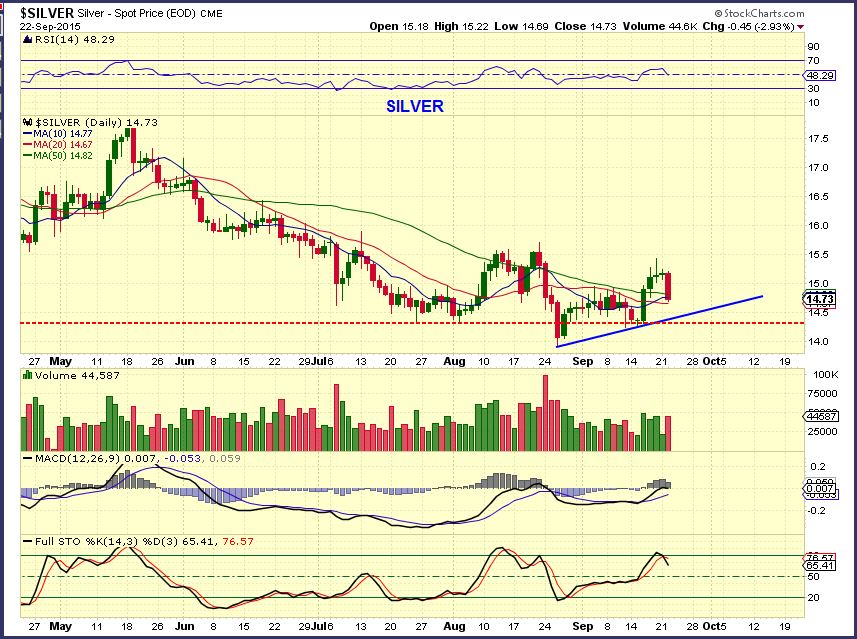 GDX

–  Yes, GDX fell more than I expected.  I was looking for the 10 SMA to possibly  hold as support.  The chart is not broken and I'll show you why…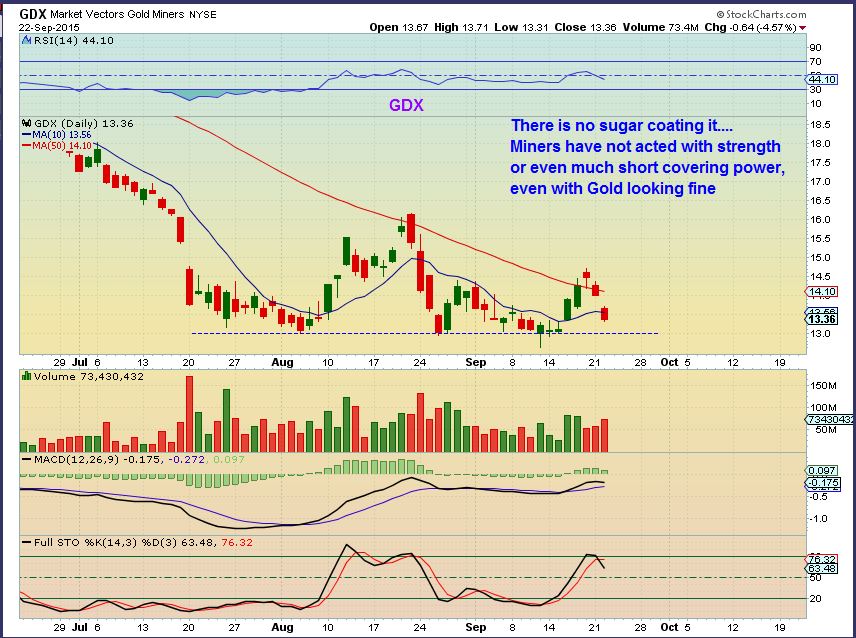 GDX (2)

– Looking back at last Nov-Dec when we were dropping into a 2nd daily cycle  (

RED ARROW

) .  We took off and curled back down  to the lows again (

2nd red arrow

) before a nice blast off higher into January. We could be seeing that here, thats why I say the chart is not broken.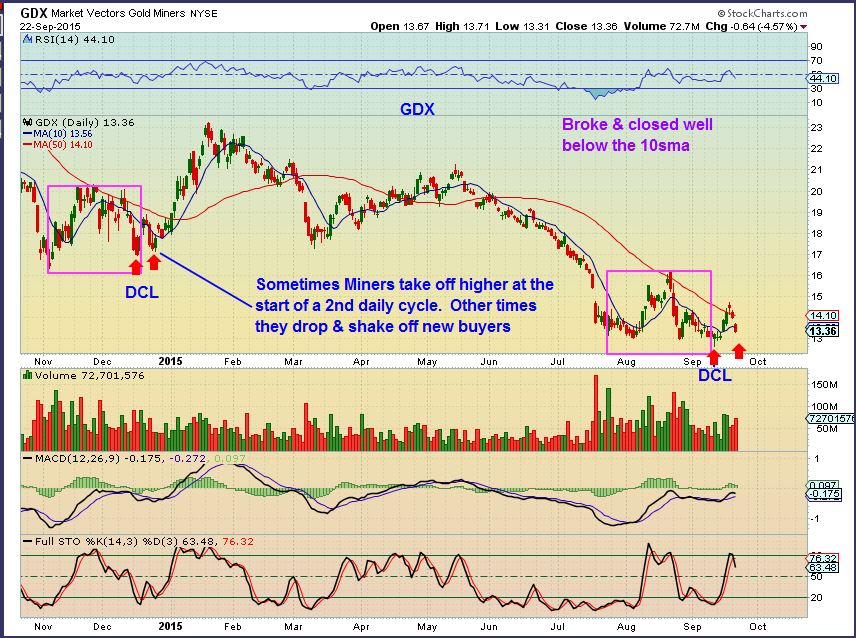 Some were not happy with the action in GDX  (understandably) , so As a reminder , I posted this in last nights  premium report.
 Here is a close up of that period last Dec 2014.  GDXJ popped and dropped to shake out weak hands.  This looked  exactly like what we were seeing now. Compare these 2 charts below together.  The 1st is last Dec and the 2nd is today. Twins.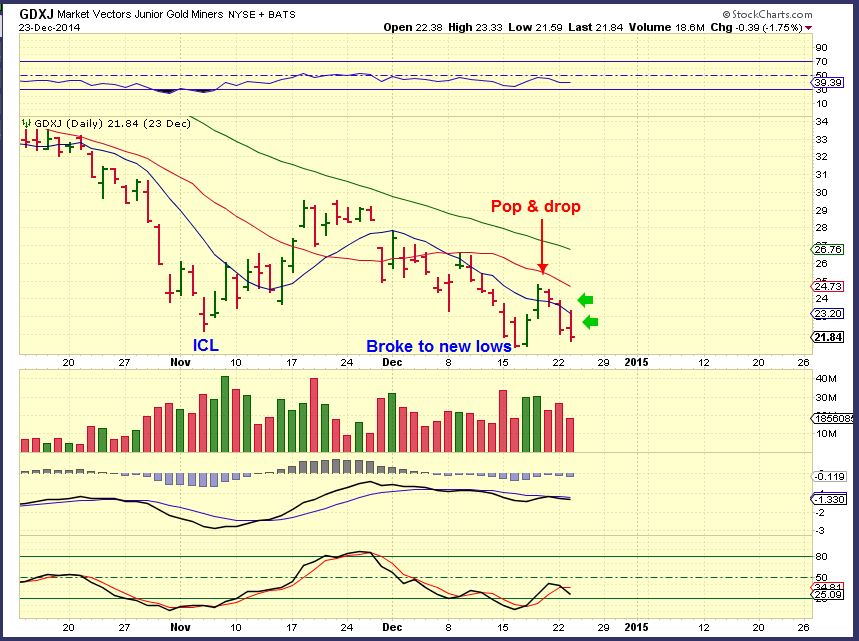 .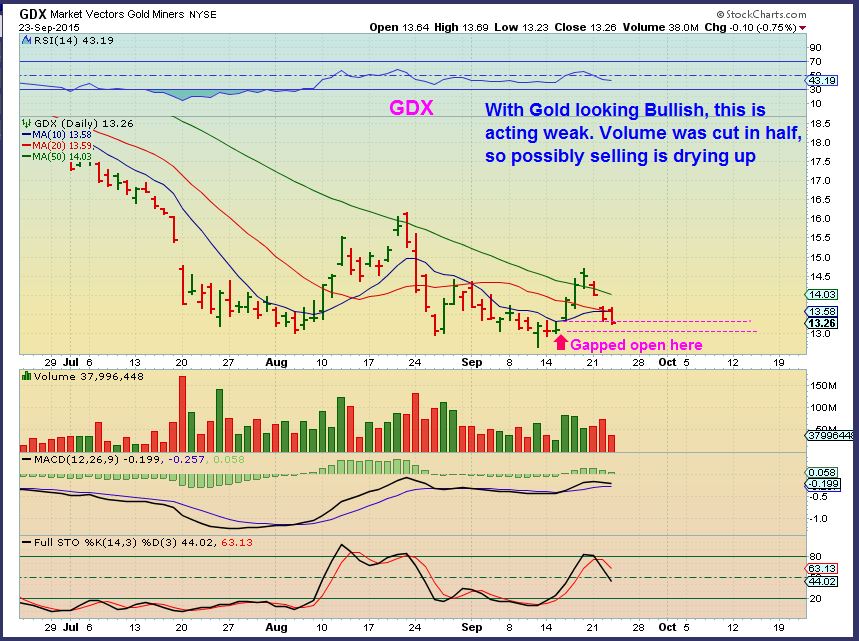 What happened next? This is the same chart of last December as the anticipated run started. The red arrow points to where the first chart above ended.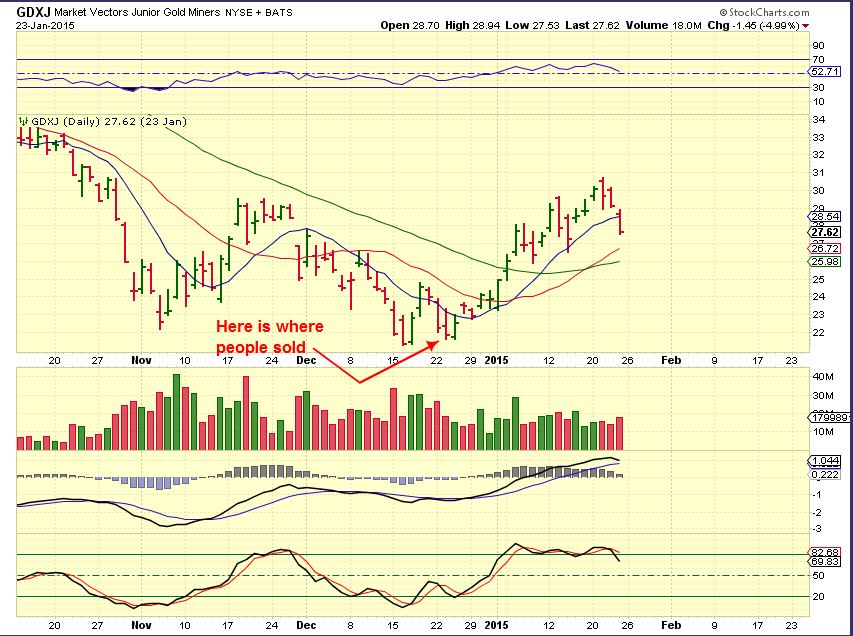 Conclusion: 

We were in the 2nd daily cycle and a rally should begin soon unless something is very wrong. I also looked at the 2 charts below and declared them bullish, to further the case for a bullish move in the near future. They are larger components of GDX.   Bullish descending wedges.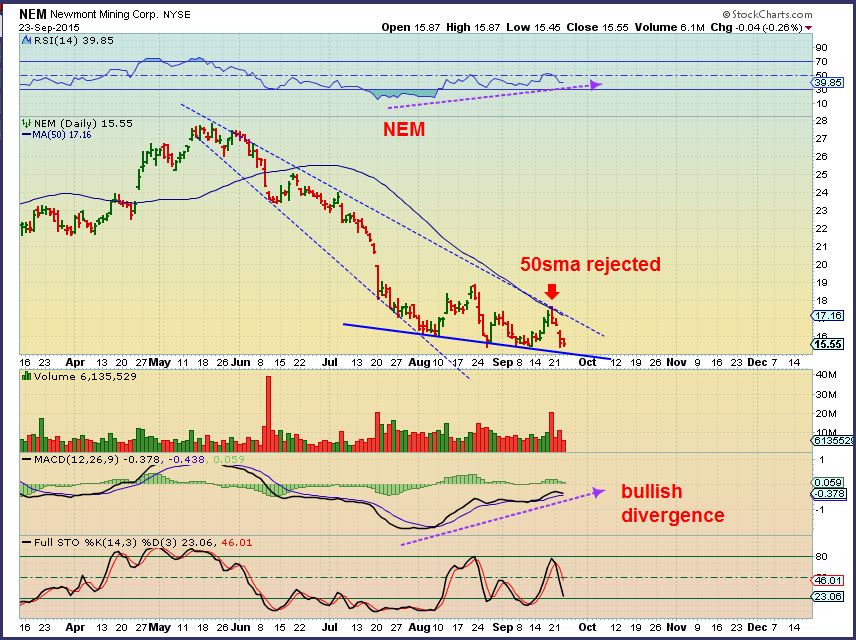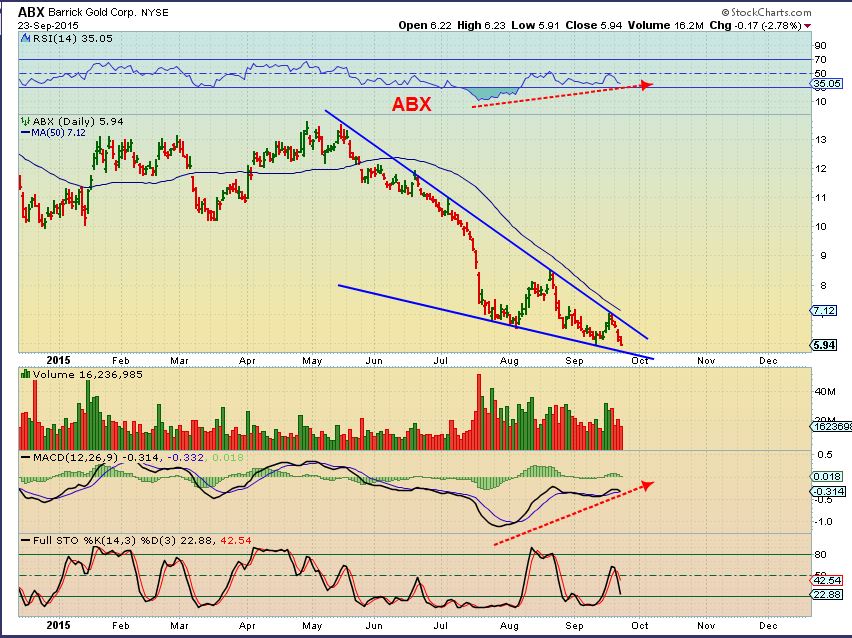 Today we have this  (Click to isolate)

GDX  2 hrs into trading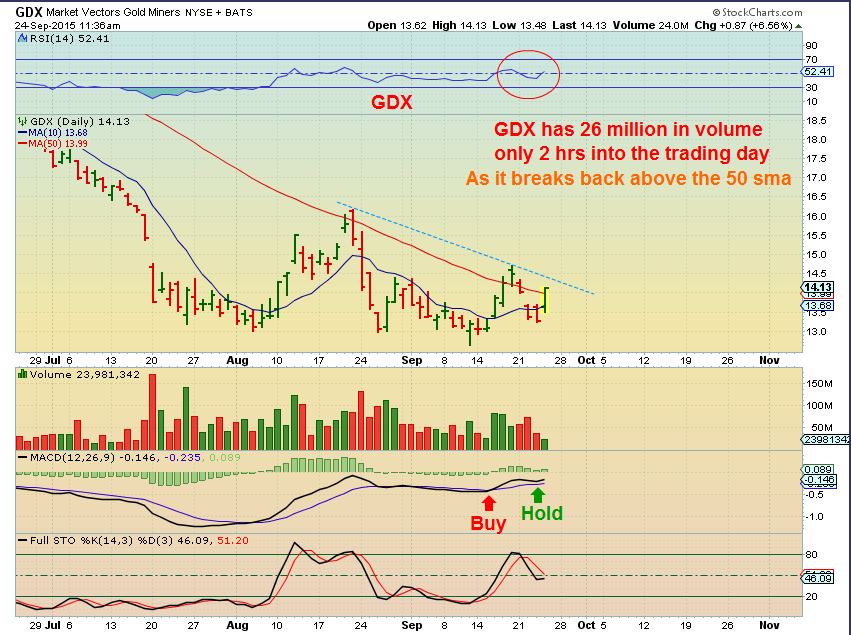 I have been calling for another leg up, but many were growing weary  (understandable with that GDX drop) . The above analysis was designed to help my readers to see the possibility and likelihood of the coming move higher.  We saw dips like that before, right before a rally.  It's time to go shopping friends.  Find your favorite Miners and gather a basket, start small if you have your doubts.  Were you confidently expecting a move higher in Gold?  Do you still have doubts?   Though we saw weakness in Miners, we were still expecting a move higher in Gold , and we were watching for the Miners to get on board.  Today we are seeing positive follow through.

I will be covering some set ups in future premium reports, and also navigating this move forward, since I believe we have started the next leg higher. Why not try a 1 month sign up? Thanks for being here!
~ALEX 
https://www.chartfreak.com/wp-content/uploads/sites/18/2015/09/GOLD-JUMP.jpg
542
822
Alex - Chart Freak
https://www.chartfreak.com/wp-content/uploads/sites/18/2019/11/Chart-Freak-site-logo.png
Alex - Chart Freak
2015-09-24 16:02:28
2015-10-20 14:51:54
Gold Is Jumping