I have been watching the various markets intently , examining internals and how they've reacted under similar circumstances in the past  to try to get an idea of what to expect .  I think that I have done rather well with the general markets and Metals and miners,  but I must say…there are some extremes in some areas that I have just left alone until I get a clearer idea of how things may unfold going forward.   What am I referring to?  Well, specifically the  ENERGY  sector with OIL and NATGAS has been a little tricky, and of course the $USD has been very strong –  now even higher than I anticipated.   lets take a look at those areas.  They that have been difficult to call,  for Sure.
  I know what I "Guess" they could do, but when it comes to putting advice in my premium reports on these sectors,  I have decided to just wait until things clear up , and focus on some other very trade-able areas.
 I expected the $USD to stop in the $92 area.   ( Actually, I had that as a target, but I thought it may not  make it there, I mentioned that it could roll over near 91  because GOLD began completely ignoring the $USD strength. I assumed GOLD was sniffing out Dollar weakening).
I posted this chart Jan 2- $92 target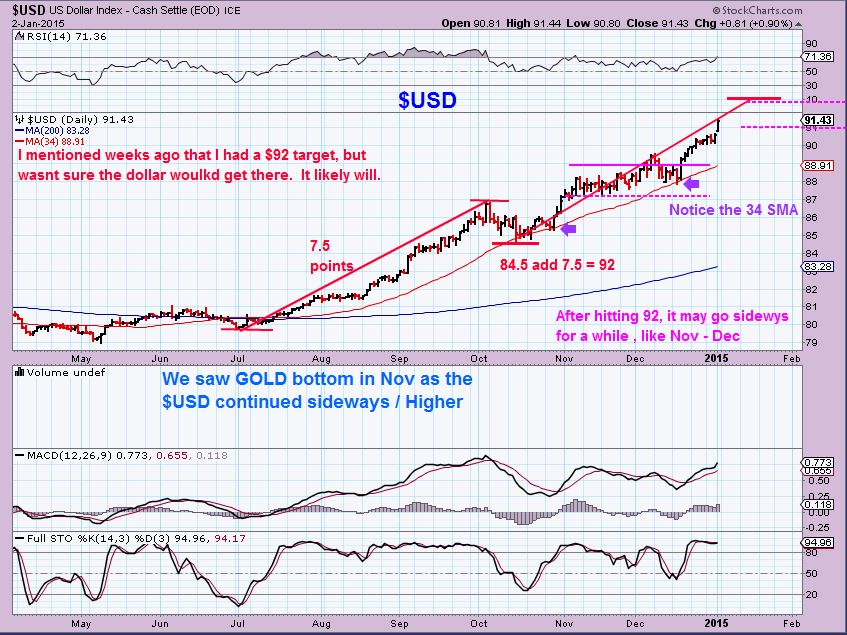 Then on JAN 5 , I noticed this …
Look, a 'topping candle"-  my target had been met. A top?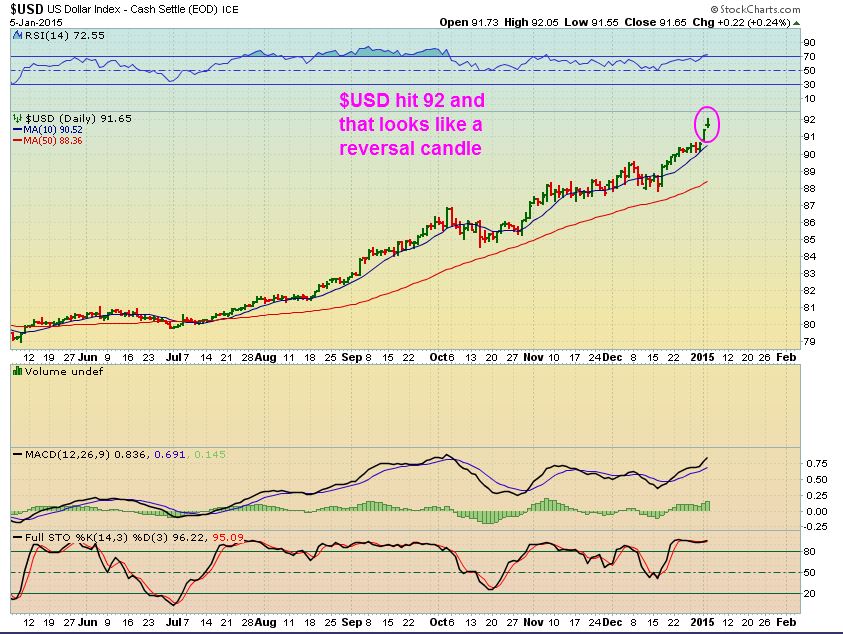 Look,  Jan 7th & the $USD is ignoring it again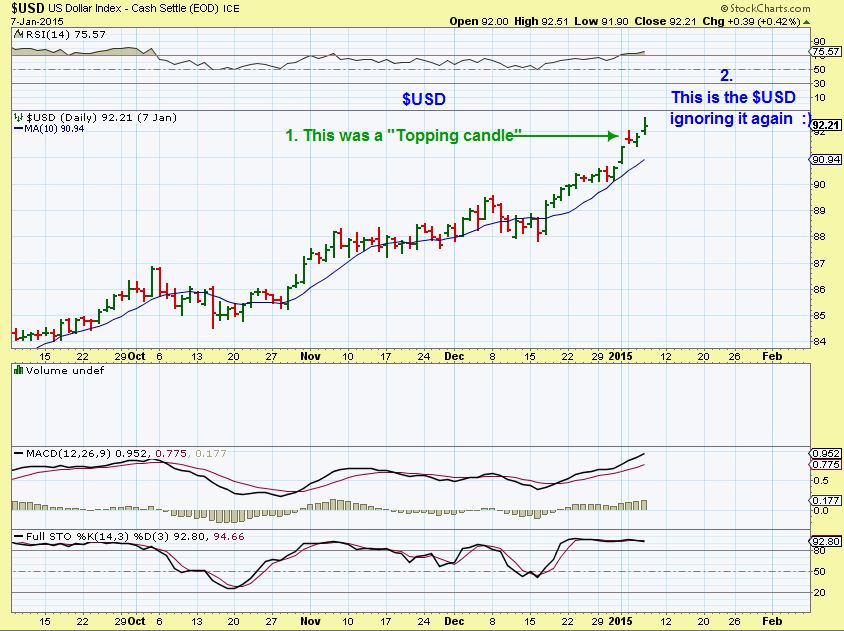 However,

I do still expect the dollar to start to slow down and pullback soon

( Or possibly consolidate sideways for a while ), but it has been difficult to time.
$WTIC  /  OIL
The

$OIL

drop.  IT certainly has been spectacular too ,  Good for shorting.    SCO was dynamite, but I didnt personally take that trade.  Now I've noticed in certain Forums/ blogs that   Many have been trying to catch a snap back rally / bottom in Oil.   Some things to note in that area.

DEC 23

– I posted this as a possible bear flag warning, and noted that the 10 sma has held it down.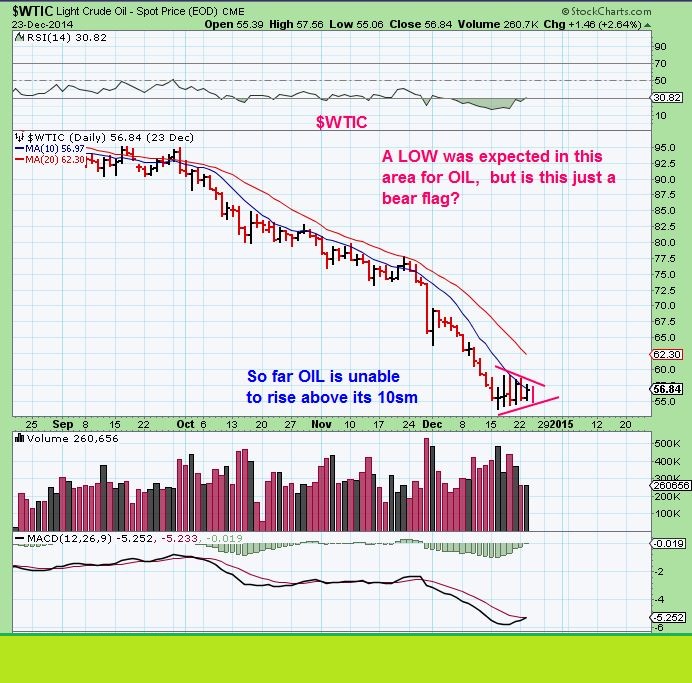 Then when it gave way , JAN 5 th  this was noted for those trying to catch a falling knife.  10 SMA is again holding it back.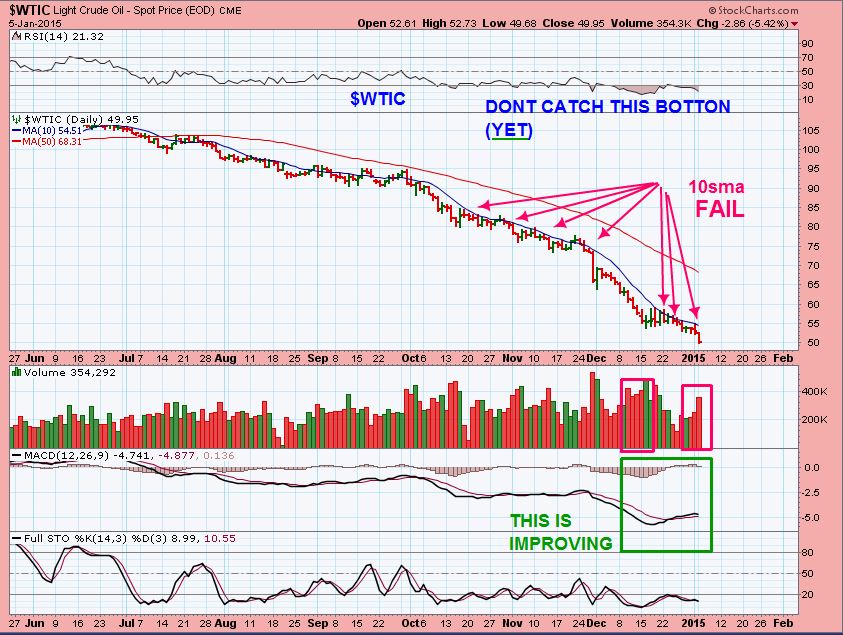 This was JAN 7 –  A REVERSAL? Bounce to the 10 sma? possibly

  Instead of fearing missing the lows on this one, Why not  be safe and wait until it rises above the 10SMA for a change of character.
Many other

strong looking reversals

went sideways to the 10 sma gave it up. Leveraged longs were losses.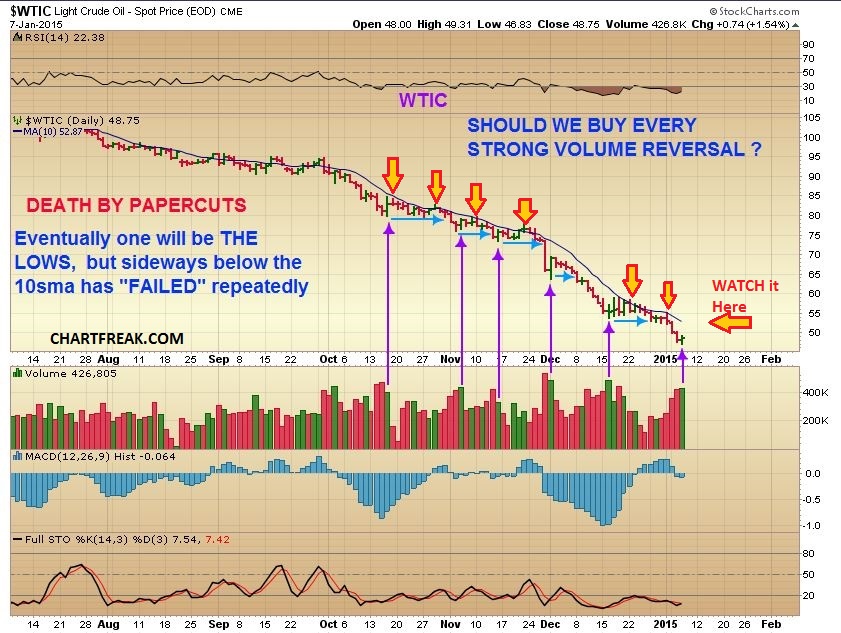 $NATGAS has fooled many too. 
I heard a lot of thinking in forums that WINTER must be good for NATGAS.    Notice that  Last yr it was, but did you look at 2 yrs before that?  See the chart,  They sold off into Feb and March.   Now this year winter has been a let down.   It even Broke out from a wedge & dropped back inside.   NATGAS could be at support here, but I think it needs to also prove itself.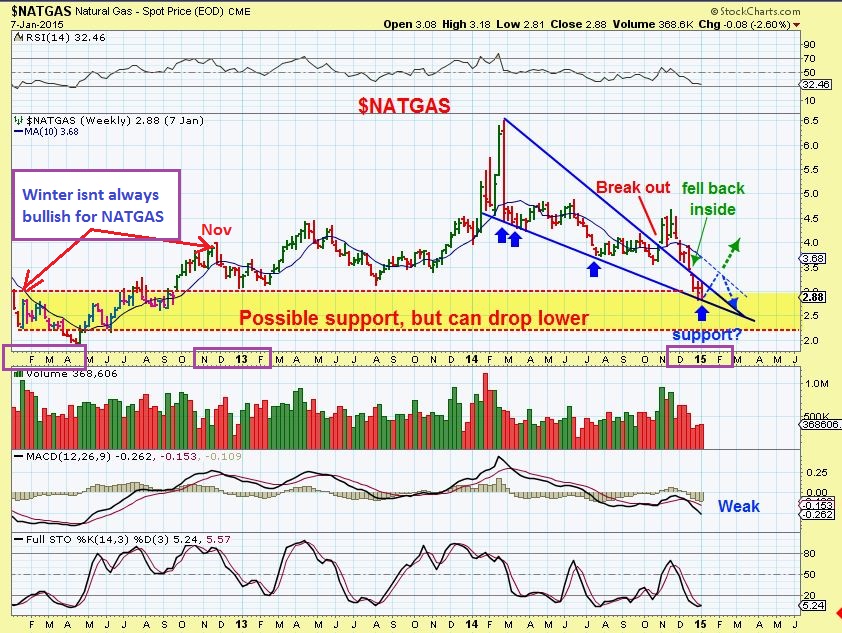 Lets Zoom in on NATGAS for a moment.  I actually think NATGAS  could rally soon.
  I see bullish signs

, some shown here, but to prove itself and be a safer buy,  it needs to break above the descending wedge and 13 SMA  I.M.H.O.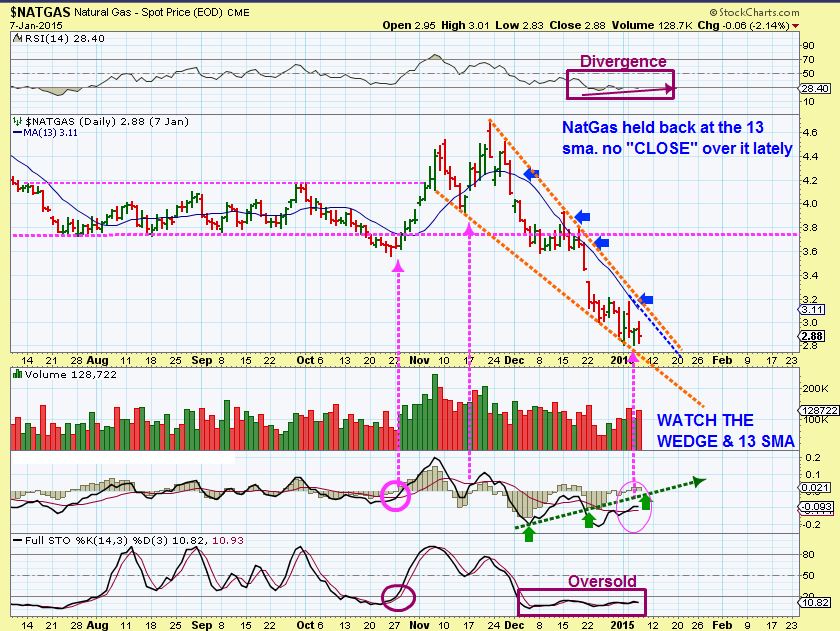 Like I said,  These may turn out to be great trades after they bottom, but really, it's tough to catch a falling knife.    It may be best to allow them to first prove themselves. OIL will one day recapture that 10sma and you might find some nice ways to go long OIL and OIL stocks to take advantage of that.  NATGAS could be at support here,  but it really need to prove itself too.  It could go either way at this point. 
Right now ,  we here at chartfreak are currently looking at other opportunities that are proving themselves. There are definitely a few extremes in the markets right now ,  but also some nice trade set ups.  I'm trying to stay focused and on top of decent opportunities to make some profitable trades.  Patience often pays off. Thanks for visiting and why not bookmark chartfreak.com & stay tuned.
~ALEX
(Opening theme pic credit to RUSH Power Windows & HUGH SYME )
https://www.chartfreak.com/wp-content/uploads/sites/18/2014/03/LOOKING-AHEAD.jpg
531
1089
Alex - Chart Freak
https://www.chartfreak.com/wp-content/uploads/sites/18/2019/11/Chart-Freak-site-logo.png
Alex - Chart Freak
2015-01-08 17:15:30
2015-01-08 17:15:44
OBSERVATIONS