OCT 1, 2014   What am I looking at?  When we have a sell off in Markets or even individual stocks, I am always looking at my list.  I want  to see if anything I wanted to buy but missed  (or owned & sold) is possibly "Setting up" as another buying opportunity.  I AM REALLY liking the setting up of some Miners , but for this report, I just want to show some stocks that look interesting and I'll also include one of the GDX .  Its the start of a new Month, Its the start of a new Quarter. Funds may do some shopping pretty soon to attempt 4th quarter  bragging rights ( And thus a 4th Quarter rally?).  Today , these are JUST A FEW of the stocks I was looking at.
GDX – It may have a DEC 2013 type low forming? Or it MAY have a 5th wave to go…But seriously I have a FEW indicators & sentiment calling for an ICL sooner than later.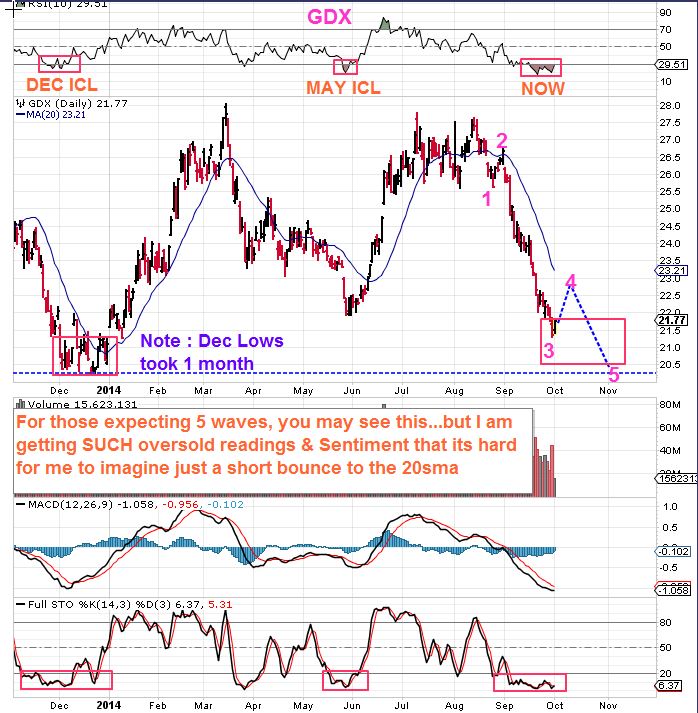 Going back to my recent Gold report  here  http://www.chartfreak.com/2014/09/26/illusion/
and look at many of those MINERS that I said were acting rather special in this beat down. READ That report—look at what I said about FSM, RBY, RIC, etc .
NOTHING HAS CHANGED